Kies 3 Software
---

Samsung Galaxy devices running Android 4.3 or later versions.
Kies 3 Software Downloads
System Requirements:
OS: Windows XP(SP3), Windows 7, Windows 8
CPU: Intel Core i5 3.0 GHz or above (recommended)
Memory (Ram): 512MB (Recommended)
Hard Drive Space: At least 200MB (Recommended)
Screen Resolution: 1024 x 768 (32 bit or above)
Required Software: Windows XP : Windows media Player 11 or above, Windows 7,8 OS N, KN : Windows Media Feature Pack "Media Feature Pack" is available from Microsoft homepage (www.microsoft.com)
Operating System(s): Windows XP(SP3), Windows 7, Windows 8, Mac OSX 10.5 and up
Samsung Kies 3 Windows Software Download (39.9 MB)
Samsung Kies 3 for Mac Software Download (29.7 MB)
Firmware upgrade
1. Connect your device to your computer using the USB cable. Firmware upgrades are available only when you connect your device via the USB port.
2. Open Kies. When a new version of firmware is available, you will see a notice on the Basic information tab.
3. Click Firmware upgrade to start the upgrade process.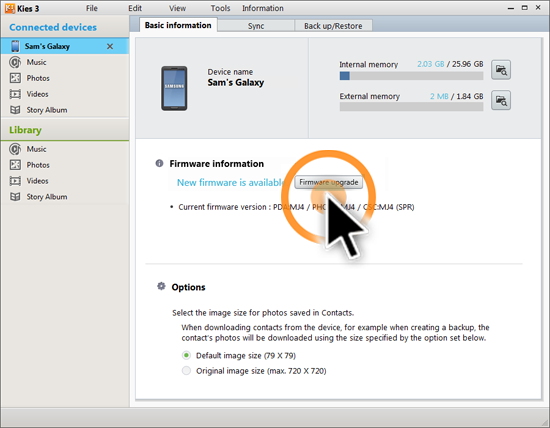 Note: A pop-up message may also be displayed when you connect your device to Kies.
4. You will be taken through the backup process to preserve all of your data.

---
All information on this site is quoted.